Burnishing Tools
Sugino Superoll Roller Burnishing Tool Mirror-finish Surfaces through Plastic Working.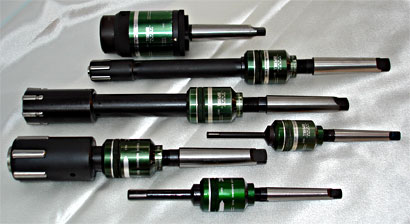 Finished to a mirror surface in one pass
Work hardening of the finished surface
Quick-touch, fine-adjustment mechanism
Low running cost
Attachable to lathes, boring machines, NC machines
A set of special rollers compresses the metal surface to obtain a smooth finish through the same operating principle as that of road rollers leveling the road surface.
This is the Roller Burnishing Work Method. This is a plastic work method entirely different from the "finishing method by shaving"; thus, after passage of the rollers, surface roughness is improved into a harder mirror-finished surface.
For through or blind hole operations from 4.45mm to 200mm diameters and for shaft and stepped shafts from 3.05mm to 64mm diameters.